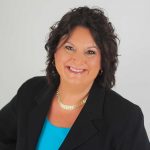 Susannah Frick
REALTOR®, GRI
A little about me
Susannah Frick is a lifelong native of Tallahassee, FL, born and raised and proud to say there is no place like home. With her degree in Psychology from Florida State University, this was the beginning of her passion for people. Careers in customer service, sales, recruiting, 25 years working at Kool Beanz Café and a licensed Realtor since 2001, her business is to take care of you!
Her passion for people carries through her community life. It is very important to give back to the community in which she was raised to help provide services to entities in need of support. She is on the Executive Board of Directors for Turn About for 12 years, serving adolescents and teenagers who are challenged with substance abuse, victimization and mental health needs. She is also an advocate for Pitbulls as her kids are two rescue dogs- American Pitbull Terrier mixes, Sadie and Jaxon. It is not about the dog it is about the people that raise the dog. Out and about you will see Susannah enjoying the arts by supporting Young Actors Theatre, Theatre Tallahassee, FSU Theatre and FSU Music Theatre, Tallahassee Symphony Orchestra, FSU sporting events, going to art shows or exploring new local restaurants.
Susannah's creativity is reflected in the kitchen. Creating dishes and sharing them with her friends and family is what brings her the greatest joy. In 2007, she created a cookbook for her family, friends, strays and significant others. The gift of the cookbook is not as good as when the recipients of the cookbook call, text or send pictures of what they made from the cookbook- that is the greatest gift of all.
Daughter of Doug and Beverly Frick

2 rescue dogs, pit bull and border collie mix

Pit Bull advocate- its not the breed it's the owner of the breed

Licensed since 2011, GRI

Customer Service and Sales is what I am born to do

Helping people

Executive Board of Directors for Turn About

Kool Beanz Café 23 years

For fun, I love being in the kitchen or hanging with my dogs
Dreams come from the heart, but they are made in the home. Susannah Frick is here to make your dreams come true!